When we are young, everything seems to work well with our eyes. We start off by mass producing tears - as all new parents know, and get away with a lot of eye abuse and neglect because our young bodies are fully functional and able to regenerate tissue and body fluids readily.

The ideal eye is clear, not bloodshot, and able to focus on objects that are both near and far. A look at the retina indicates a normal pattern of blood vessels. We rarely experience dry eyes - and tear readily as part of normal eye function via the Lacrimal system (below) to lubricate and nourish the eye and to flush and clean foreign material from the eye.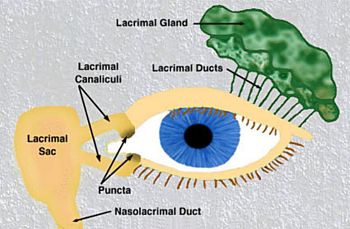 Healthy eyes are well nourished by the primary plant food groups - and in particular, have a ready supply of Vitamin A, Vitamin C, Bioflavonoids to help the body absorb the Vitamin C, Vitamin E, and certain essential fatty acids. More on this later.

As we age, we can continue to have healthy eyes - but must be aware that certain conditions will cause a deterioration of our vision and eye health. In some cases, we are alerted by symptoms of the eye that cause some level of discomfort. In many cases, however, the condition begins and progresses with no warning signs until significant vision damage has occurred. If you are fortunate enough to personally know a number of people past the age of 80 - you may have noticed that many, if not most, of them - have seriously compromised vision. In many cases, this didn't have to occur. That is why regular eye exams are so important. By having your eye doctor provide regular eye tests and vision testing - you can catch and reduce or eliminate many of the conditions that cause so much vision loss as you age.

If you live in Newport Beach, Corona del Mar - CdM, or Huntington Beach - it is easy to get to our clinic. We're located just off Pacific Coast Hwy - near Hoag Hospital.



lasik



contacts



glasses